Kokin Healing Center in Sherman Oaks
Conveniently Located near the 405 and 101 Freeways

4955 Van Nuys Boulevard, Suite 306
Sherman Oaks, CA 91403
818-528-1050
OUR SERVICES IN SHERMAN OAKS

Acupuncture
Acupuncture stimulates the body's life force called "qi". Qi is said to flow through specific pathways throughout the body. Physical or emotional trauma, improper nutrition, stress, and environmental factors can block or alter the balance of qi. By stimulating acupuncture points, the flow of qi can be changed and blockages can be dissolved.Only when the qi is restored to balance will optimal health return. More about acupuncture…
Chinese Nutrition
Chinese nutrition acts to maintain your body's balance, which can be easily disrupted with all the toxins we come into contact with every day. Every person is different. Even people with the same medical condition can have different yin/yang deficiencies. Our one-to-one counseling helps find the root cause of your symptoms and teaches you the proper foods, spices, and even cooking techniques necessary to bring your body back into harmony. More about Chinese Nutrition…
Massage Therapy
We offer several types of bodywork as a compliment or alternative to the healing energies of acupuncture. Our licensed massage therapists use their knowledge of the energetic meridians used in Chinese medicine along with different massage techniques to help bring relief to those who have pain or disharmony. More about massage therapy…
Herbal Medicine
Chinese Herbal Medicine, dating back thousands of years, relies on a root-level attack, rather than a symptom based treatment. This means there is usually a multi-step approach to wellness. Initially, your acute symptoms will be addressed, in order to alleviate the immediate reasons for seeking our services. Once the acute symptoms are eliminated, the root of the illness, or the underlying cause, will be addressed. More about Chinese herbal Medicine…
Loose Leaf Teas
What is tea? All tea comes from an evergreen plant known as Camellia sinensis. There are over 2500 varieties of tea. Depending on the region, weather conditions, soil, and particular crafting of the farmer, tea will deliver varying results fitting into one of the five major categories: white, green, oolong, black, and Pu-erh tea. Of course herbal and certain botanicals or fruit infusions may not fit into these categories. More about Loose Leaf Teas.
Meet Marin L. Kokin L.Ac.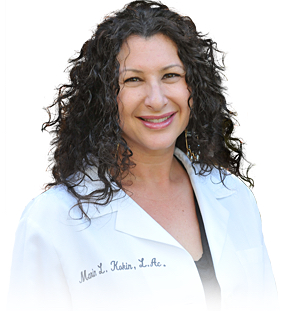 Marin L. Kokin, L.Ac opened her Calabasas location in 2013 after being in practice for over 14 years. She is a California licensed acupuncturist and herbalist, and a National Diplomate in acupuncture and Chinese herbology, board-certified through the National Certification Commission of Acupuncture and Oriental Medicine (NCCAOM). Learn more about Marin L. Kokin.
New Patient Packet
Save some time by printing our the New Patient Packet and filling it out at your leisure. Just bring it in with you to first appointment!
Proudly Serving
Calabasas
Agoura Hills
Westlake Village
Thousand Oaks
Newbury Park
Simi Valley
Camarillo
Moorpark
West Hills
Canoga Park
Woodland Hills
Malibu
…and surrounding areas
Monday
1:00 pm–6:00 pm
Tuesday
9:00 am–6:00 pm
Wednesday
8:00 am–7:00 pm
Thursday
9:00 am–6:00 pm
Friday
8:00 am–6:00 pm
Saturday
9:00 am–2:00 pm
Sunday
Closed